Say Hello To The Pros – Love An Open, Honest Conversation? Us Too!
Here at Pro You, we believe there's power in connecting our customers, friends and family through honest conversations.
Putting this to action sparked our latest blog series – Say Hello To The Pros – in hopes of opening up an unrestricted, raw conversation with some of our beloved Pro You pals. Stemming from all parts of life, our guests are athletes, business owners, globe-trotters, parents, students and everything in between.
This series is inclusive, transparent and unedited.
Each entry will cover 12 questions ranging from how they stay on top of their health, tiny habits that make mighty differences, passions and drives, local New Zealand product heroes, supplementation and other life hacks. Who doesn't love a good life hack?
Everyone is a pro in our books, so if you want to come onboard – flick us an email to info@proyou.co.nz and let's get chatting. We would love to get to know you.
Let's get into it.
Pro #1 Brie Harrison. Brie is 24 and lives in Auckland. W

e enjoyed getting to know Brie when she won our Pro You and Partners promotion earlier this year.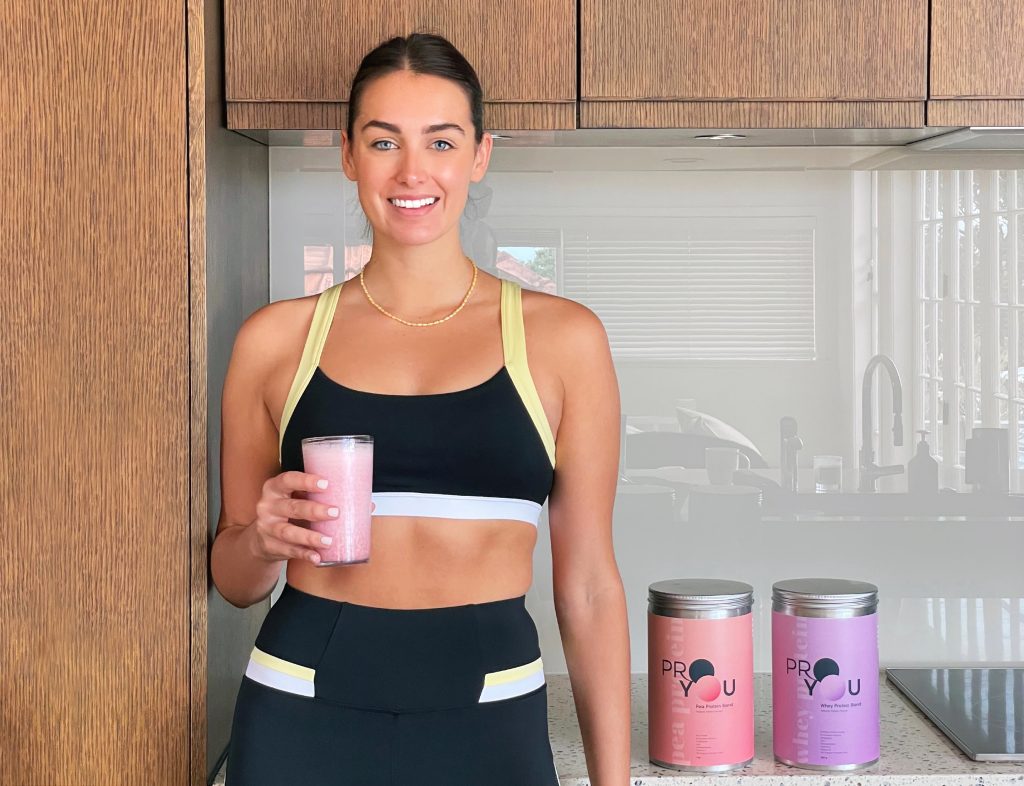 1. Day to day, what do you do mostly?
I've had a bit of a wild ride since moving from Sydney to New Zealand to complete a degree in Physiotherapy. I spent four years in Dunedin studying, but after spending some time in a Private Practice, I felt like I needed a career change. I've always been drawn to Physiotherapy due to my love of exercise and my willingness to help people, but after a few months of work, I didn't have as much of a passion as I had started with, so I thought I'd try my hand at another career.
After leaving Private Practice, I decided I wanted to pursue a career in Marketing. I am lucky enough to now work in a role at a leading advertising agency. This new career path has allowed me to take skills that I learned from my degree that I never thought would translate over and gain a huge amount of knowledge into how marketing and advertising works. I love working for a company that makes real changes in New Zealand, and it's always special to see how a campaign you've planned comes to life.
2. What do you love doing?
EATING !!! I love eating out, and this is literally where all my money goes. I love finding new restaurants with delicious food and a beautiful interior. My partner and I break the bank to go out weekly, but we love it and find it a nice way to break up the 9-5 working routine. I also love traveling and adventures. Before Covid, I was blessed enough to visit many countries – experiencing lots of different cultures, people, and of course, the food.
3. What stresses you out
Making decisions! I am the most indecisive person when it comes to making decisions. I'm super content with letting other people choose for me and going with the flow.
4. Where do you work out and why do you choose to work out there?
I work out at Playground Fitness in Auckland, and I have been going there for two years. The team who run it are amazing, and I recommend them to all my friends. It's the perfect mixture of fitness and strength conditioning, and they definitely know how to give you a tough workout to start the day. I also absolutely love doing Reformer Pilates. Unfortunately, I don't get to do it as much as I would like to. Hopefully, I'll be able to pick up some more classes for the second half of the year.
Each weekend I always make sure to squeeze a walk along the Kohimarama – St Heliers waterfront. I am blessed to call this my local. Something about being by the sea makes my week that much better!
5. What is your usual day-to-day diet and what are your favourite treats?
My partner and I like to mix it up as much as we can. We do a WOOP box each week, so to play into my indecisiveness, I let them choose my dinners for me (which is great). I try and eat as healthy as possible for lunches, but unluckily/luckily, we get lots of treats bought into work, so I find myself not being able to say no to a donut every now and then. On the weekends or on a tired Friday night, I can never shy away from a burger. I'm a self-proclaimed critic and am always on the lookout for a new spot.
6. Do you have any tiny habits that heed big results? i.e. What small things do you do consistently that make you feel great or have a positive impact on your life?
I find that I get stressed a little too easily when it comes to work, so I find great satisfaction in crossing off things on my to-do list. Writing one at the start of my day makes me feel like I don't have as much on as I thought, so it takes a little bit of the pressure off. I also try to exercise every day to get the blood flowing. It helps alleviate that stress from work by switching my brain off.
7. What drives and motivates you?
My partner and I drive each other. We work very similar jobs and have the same aspirations in life, so having him there drives me to be my best person and our best couple. I would also say I am quite a perfectionist, and with everything I do, I ensure to do it to a very high standard.
8. We love supporting local! What New Zealand-made products do you use, love and recommend?
I'm a big advocate for shopping local and in the last 5-10 years I've seen a really big shift in the quality of New Zealand brands which has made me even more excited to shop/consume NZ products, some of which are:
Kiwi fashion brands such as Maggie Marilyn – they have the most timeless pieces, a real staple for the wardrobe and I love what they stand for.
Kiwi Restaurants and Eateries who use locally sourced products and produce, my favourites include Mr Morris and Depot.
I am obsessed with homewares, particularly ceramic I love Rachel Carly Ceramic vases and bowls and Pam Mossman's ceramic Hydrangeas
Zoe and Morgan = The best NZ jewellery designers. I have bought and received many presents of pieces that are so sentimental and unique.
9. What media do you enjoy – podcasts, magazines, books, tv shows etc.
I spend way too much time on Instagram. I always seem to get stuck scrolling through fashion, beauty, food, and everything else on Instagram for an hour which feels like a minute. I don't tend to read many blogs, but I enjoy The Twenties Club posts. I find they are topical and easy to relate to. My goal this year is to listen to more podcasts and broaden my knowledge. I love learning and have a huge list of recommended podcasts I need to get through.
10. What does sustainability mean to you and how do you incorporate sustainable practices into your lifestyle?
Sustainability means a fair amount to my partner and me. He is massively into sustainable fishing, so he has taught me a lot about how the small steps we make can inevitably have a more significant impact on the world. To be fully transparent, growing up, I didn't have much of an idea of what effect we had on the planet, but now I'm super aware of the products I use and the way I respect our planet. I love spending time at the beach, so I am always conscious of picking up plastics that wash into shore and wherever possible, trying to minimize my own and other's waste.
11. What supplements do you take and why?
Over the years, I have tried a range of supplements from multi-vitamins to collagen. But I struggle to remember to take them daily. I find if I incorporate my supplements into my meals and look to ensure I am consuming foods that are high in vitamins and minerals, this is a plus.
12. What ways do you use Pro You protein powder?
I have been taking Pro You protein powder for a couple of months and love it. It tastes great, is super versatile, and gives me all the health benefits I need – I put in my overnight oats, smoothies, and baking, making it so much easier to get my daily boost.