Your skin will love this blended frappe as much as you do. Rich in marine collagen, astaxanthin, zinc, hyaluronic acid and other potent ingredients – our latest Beauty Blend provides next level nourishment and skin protection from harmful UV rays and antioxidant protection.
What's a Frappe?
Short for Frappuccino, frappe is an ice blended drink with coffee or caffeine free. Originally made famous by Starbucks Frappuccino range, it is now a firm Summer favourite!
What's Inside?
Marine collagen has shown to be 1.5x more absorbable than bovine and other forms of collagen. We use patented Bioactive Marine Collagen Peptides that has 10 years of research and nearly 500 study participants. With proven visible results – it's collagen we trust to deliver results. This recipe provides you with a substantial 8 gram dose of marine collagen.

Astaxanthin is our Summer hero. Its intrinsic photoprotective properties help keep damage from harmful UV rays at bay. UV ray damage is one of the leading causes of accelerated skin ageing.
Pro You Marine Beauty Collagen Blend is naturally flavoured with New Zealand's own FreshAs

®

freeze-dried strawberries. Freeze drying at sub-zero temperatures preserves its natural taste, colour and nutrients – without the use of preservatives.
The Strawberry Chia Jam is optional but you won't regret whipping up a batch and it only takes 10 minutes! Chia seed jam is a delicious low-sugar alternative to regular jam. We love it on toast, bircher muesli, oatmeal, an afternoon scone, cocktails and other drinks!
Similar to the infamous Starbucks Strawberry frappe, with a fraction (if that) of the sugar!
Smart Substitutes:
Strawberries not in season? Feel free to use frozen ones.
Use any milk or milk alternative of your choice. We chose coconut milk but oat, soy and almond are also great candidates.
Healthy Strawberry Collagen Frappe
Ingredients
Frappe:
1 serving (11 grams) of Pro You Marine Collagen Beauty Blend
1 cup of Strawberries
1 heaped cup of Ice
1/2 cup of Strawberry yoghurt
1 tsp honey or other sweetener (optional)
1/3 cup of milk of your choice
Strawberry Chia Seed Jam:
2 cups of Strawberries (fresh or frozen)
2 tbsp of Chia seeds
Method
Chia seed jam:
In a saucepan on medium heat, add strawberries and let them cook down
Mash up strawberries and take off the heat
Add chia seeds and leave for roughly 5 minutes for chia seeds to swell and jam to thicken. Add another teaspoon as a time if it is still a bit runny.
Feel free to sweeten with your choice of sweetener.
Collagen Frappe:
Blend all ingredients together until thick
In a tall glass, run 2 tablespoons of chia seed jam around the glass
Fill blended frappe in glass
If you feel like it – top with whipped cream!
Our newly released Marine Collagen Beauty Blend is available now! With so many ways to use it – we look forward to releasing new recipes so you can get your beauty fix.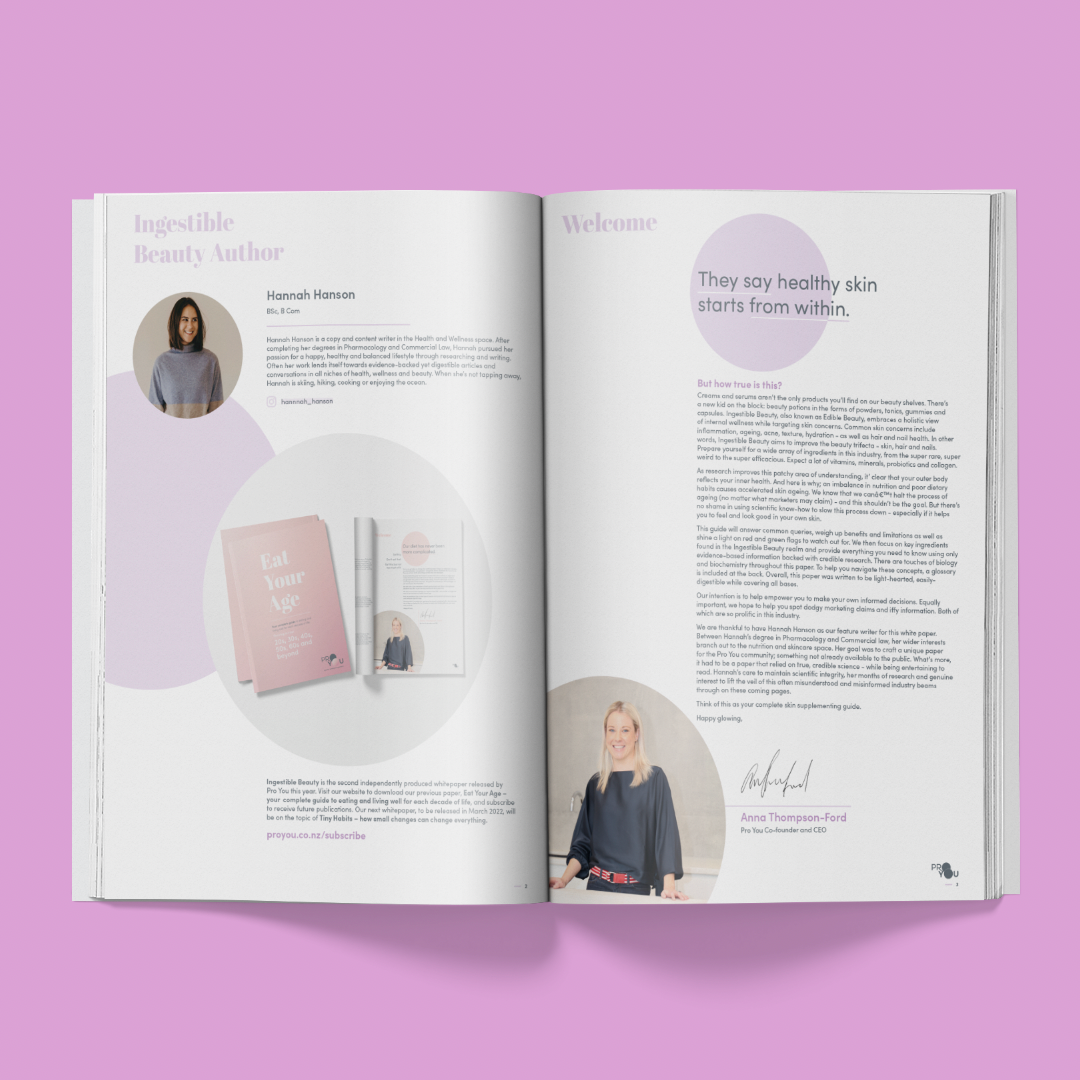 If you want to learn more about the world of Ingestible Beauty – click here to download our complimentary 28-page Skin Supplementing Guide. It gives the full intel on how to best nourish your skin, from the inside out.
Happy Glowing!