We break the mold slightly here as these take a bit longer than five minutes to make. But not as long as sourdough. Not even close. I would allow an hour tops including clean up. As with most of our recipes, the included ingredients are a rough guide, you can sub out peanut butter for almond butter or any other nut butter of your choosing, for best results just make sure it is Fix and Fogg! Their new coffee and maple butter would be interesting. It's a great base recipe to play around with, fail-safe and versatile. You can change your ingredients and add-ins up each week to keep things interesting. It has become a go-to in the Pro You kitchen and we're sure it will in yours too.
No-bake peanut butter protein bars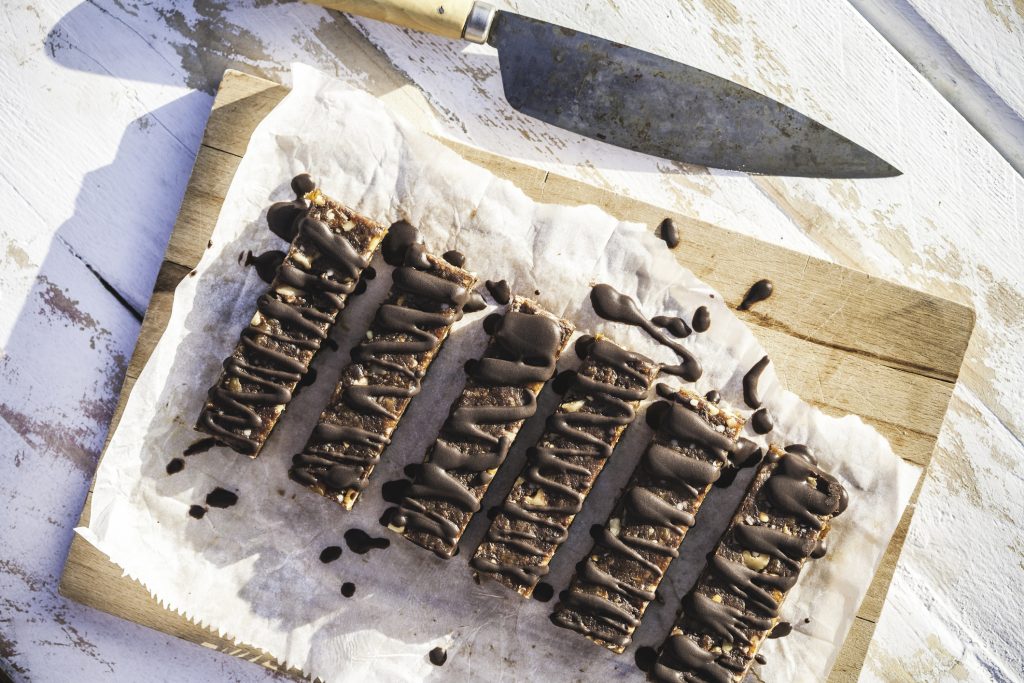 Ingredients
1/2 cup Fix and Fogg smooth peanut butter
2 tablespoons coconut oil
1/3 cup honey
1 teaspoon vanilla extract
1/2 cup Pro You Protein Blend of your choice
1 cup rolled oats
1 tablespoon chia seeds
1/3 cup shredded coconut
Optional add-ins – diced dried apricots, dried cherries, dried blueberries
2 tablespoons dark chocolate chips + 1 teaspoon coconut oil
Maldon sea salt for sprinkling
Method
Line a 20 – 22cm long loaf tin with baking paper
Add wet ingredients together (peanut butter, coconut oil, and vanilla) and heat in a saucepan over low heat. Mix until smooth, remove from heat and transfer to a reasonably large bowl.
Stir in Pro You protein blend, then mix in oats, chia seeds, coconut, and dried fruit if you are using it.
Press mixture into the lined loaf tin
Combine chocolate chips and coconut oil and heat in a saucepan or for a few seconds in the microwave until melted. Drizzle over the top of the bars. Sprinkle with sea salt.
Place in fridge for approximately one hour. Remove from tin and cut into 10 bars or smaller squares. Store in the fridge for up to two weeks or freeze.
The recipe makes approximately 10 bars. It's a good idea to make a double batch and freeze.