Using whatever is in season and your kitchen!
What's a lunch or dinner that can be easily whipped up, uses whatever is in your kitchen, is ridiculously nutritious and more delicious than takeaways?
A buddha bowl.
Composed of 5 parts which you can mix-match-and-patch together depending on what you have on hand.
It is the secret to making healthy meals easy. 
Buddha bowl benefits:
Can be made to fit any dietary/ethical requirements – vegetarian, vegan, pescatarian, gluten-free, nut-free etc
Easy to assemble once you have the ingredients organised
Good on-the-go or office-friendly option
You can substitute any and every ingredient depending on what's in season, preferences and what needs to be used up in your fridge!
Guaranteed a balanced, nutritious meal that will stabilise blood sugar levels, keep you full for hours and nourish your body with many whole foods.
Our top tips to building a seriously enviable buddha bowl?
Use seasonal ingredients

Don't be afraid of frozen veg

Experiment with different grains

Always have toasted seeds and nuts on hand

Cook components in larger batches for multi-meal prep
Formula to the perfect Buddha Bowl:
Pick a wholegrain:
Rice (brown, white, red – long, medium, short)
Quinoa (black, white, mixed)
Noodles (udon, soba, vermicelli, shirataki)
Farro, Buckwheat, Millet
Pick a protein:
Chicken (left-over rotisserie, grilled breast)
Tuna (canned, fresh)
Salmon (canned, fresh)
Fish (grilled)
Tofu (firm, soft)
Egg (boiled, poached)
Pulses (chickpeas, lentils)
Pick your vegetables (whatever is in your fridge):
Seasonal salad greens (mesclun, kale, spinach, cos)
Roasted vegetables (capsicum, red onion, kumara, pumpkin, carrots)
Frozen vegetables (peas, shelled edamame, corn, mixed)
Broccoli, brussel sprouts (blanched, grilled, steamed)
Tomatoes, Avocado, Radishes (etc)
Beetroot, cabbage, carrots (shredded, grated)
Herbs (coriander, basil, parsley, mint)
Dress it up:
Tahini honey (Tahini, vinegar, honey, yoghurt, water to thin)
Yoghurt herb (yoghurt, blitzed mixed herbs, lemon, garlic)
Green Goddess (blitzed avocado, onion powder, yoghurt, herbs, garlic, lemon)
Sesame vinaigrette (sesame seeds, sesame oil, vinegar, ginger)

Nourishing Toppings:
Toasted seeds/nuts (pumpkin, sunflower, sesame, cashew, almonds, walnuts)
Cheese (feta, halloumi, goat, cottage)
Spice (chilli flakes)
Sprouts (mung beans, alfalfa, pea shoots etc)
Nutritional Yeast flakes
Hemp seeds
Seaweed or Nori
The real merits of a buddha bowl is being able to use whatever's in season (no having to buy $6 capsicums), in your kitchen and changing it up so you don't feel like you're eating the same thing day-in, day-out. 
Need examples of our favourite bowls?
Some days I like to pick a Japanese-inspired theme – and choose ingredients such as fresh salmon, on rice with edamame, avocado, mung beans and blanched broccoli topped with a sesame vinaigrette and toasted sesame seeds.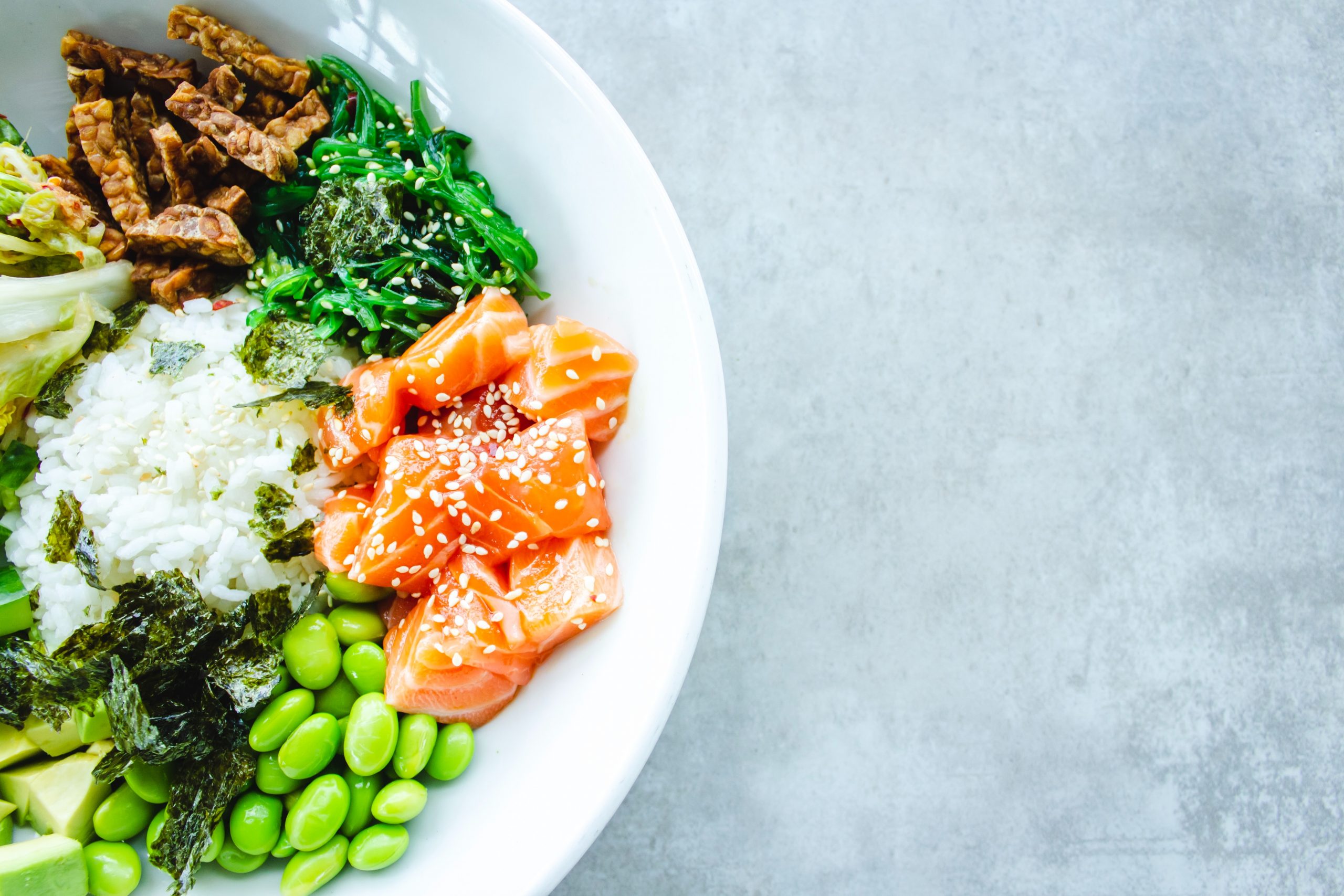 Other days it's a Mexican theme where I have a base of rice and beans and top it with chicken or tofu, roasted capsicums and onion, chopped tomatoes and avocado, a dollop of cottage cheese or yoghurt and chilli flakes.

Will you give this a go?
Feel free to email us if you have any questions or need bowl inspiration!