Not-tella – Better!
3 ingredients – that all you need for our homemade Nutella spread. The best part? You can have it every morning – and feel good about doing so. The usual Nutella spread you see in the supermarket has more sugar than hazelnuts. In fact, it has more palm oil than hazelnuts. So how about a Nutella spread that is low in sugar, high in hazelnuts with no added oil? Yes, please!
We love drizzling this spread over our Pro You Protein Blends oatmeal, on toast, dipped with fruit and on pancakes. It also goes well drizzled over ice cream or yoghurt. Possibilities = Endless!
This recipe is: Vegan – GF – DF – Egg Free – Peanut Free – Oil Free
Top tips to creating super smooth, super tasty Nutella:
Let your hazelnuts cool completely after roasting them
For best consistency, take the skins off (as best you can) your hazelnuts – you'll thank us later
Feel free to add in a pinch of salt, vanilla extract or even chilli powder for those that like a kick!
Healthy Hazelnut Benefits:
Packed with healthy fats that will keep you feeling satiated and blood sugar levels stable
Rich in minerals and antioxidants – particularly phenolic compounds known for reducing blood cholesterol levels
A good source of fibre – supporting a healthy, happy gut
'No Nasties' Nutella Spread Recipe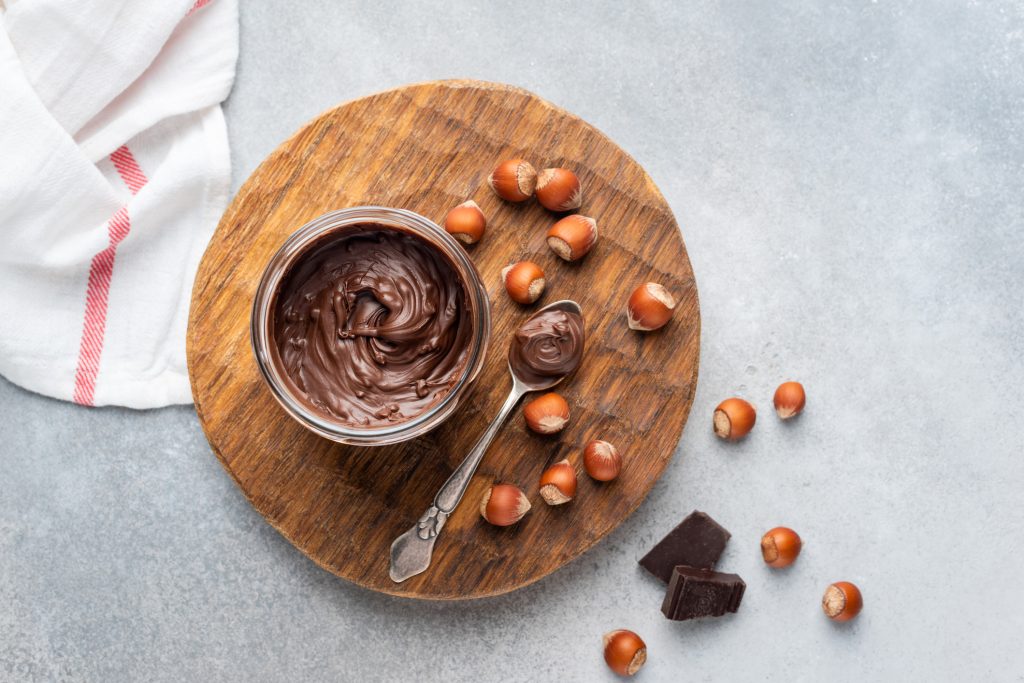 Ingredients:
2 cups Hazelnuts
1 1/2 tablespoons Unsweetened Cocoa or Cacao Powder
1 1/2 tablespoons Granulated Sweetener/Sugar of your choice (we love coconut sugar, monk fruit or stevia)
Method:
Roast your hazelnuts for ~10 minutes in a preheated oven (180 degrees)
Leave to cool completely
With wet hands, rustle the hazelnuts around to loosen the skins – as best you can remove them
Blitz hazelnuts in a high-powered blender until it turns into a flour like consistency
Add your cocoa/cacao powder, sweetener and any additional add-ons you like and blend until silky smooth
Transfer to a clean  jar and store in a cool, dry place (like your pantry!)
Feel free to email us if you have any questions or want to share your own recipe with us!